Bel-Aldy Honey/Toktogul.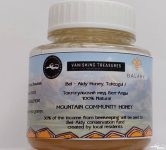 Bel-Aldy Honey, Toktogul. Mountain Community Honey.
Price: 100 som (KGZ)
100% Natural, made in Kyrgyzstan
Nutritional Value 100 gr.
Calories: 329 gr.
Protein: 0.8 gr.
Fat:         0 gr.
Garbohydrate:  81.5 gr.
Harvest:  August 2022
Net weight:  100 gr.
This honey was produced within the UNEP Vanishing Treasures Program to introduce beekeeping as an alternative income for the local community involving them in biodiversity conservation.
The project team will contribute 30 % of earnings from the honey produced during the project towards enabling lives of residents of the current village districts such as making roads, veterinary vaccination, improving pastures etc.
30% of the income is contributed to the wildlife conservation fund through the local community – based conservancy acticities focusing on snow leopard conservation.
Tel. +996558271081
Where to buy: Isanov street 105/3, c. Bishkek, Kyrgyzstan, 720001
---